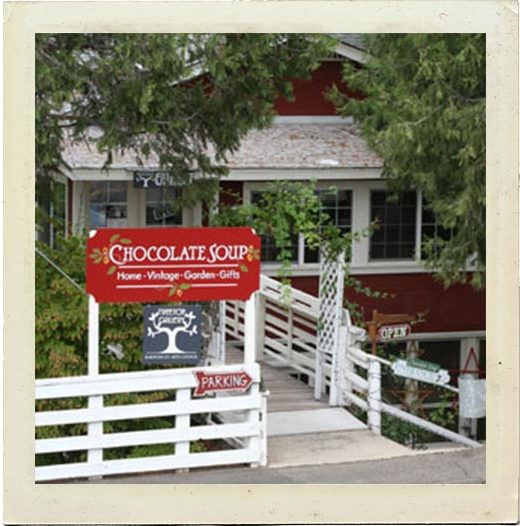 Gifts for Sale in Mariposa, CA
Chocolate Soup has a little bit of everything for everyone. From handmade artisan products to gifts for sale, candies to faux florals and furniture to found vintage and antique items, it's impossible to browse through our shop without something catching your eye. We invite and encourage you to look around and explore every room for yourself!
Contact Us
Professionally Curated Themed Areas
Each space holds a unique theme and is filled with treasures unique to that theme. Explore them all and see what piques your curiosity! Whether it's a vintage knickknack or an artisanal product, you're guaranteed to take home something meaningful from your visit to Chocolate Soup. You haven't truly explored Mariposa, CA until you've walked through our shop and immersed yourself in the themes of our many rooms:
Front Porch Spa Room
Parlor Living
The Kitchen
The Children's Room
Back Porch
The Cabin
The Potting Shed and Gardens
The Cottage
General Gift and Home Store
There's so much to explore at Chocolate Soup! As you meander through the rooms of our historic property or visit the outbuildings, you'll find yourself immersed into different environments and atmospheres with a great variety of unique items. From home and garden décor, to gifts and books for sale, to jewelry and fashion accessories, it's worth exploring every area just to see what treasures you might find!
Bath and body products
Cards
Fashion accessories
Food products
Furniture/handcrafted furniture
Garden décor
Jewelry
Kitchen
Toys & books
Artisans and Brands We Carry
Much of the wonderful appeal of our gifts and home decor items come from the unique artisans and brands represented throughout the the property. From handmade soaps and lotions to furniture made by local craftsmen, our many brands represent unique items and products you won't find anywhere else! Come and see for yourself.
Melissa & Doug (toys)
Schylling (toys)
Meyer Meier (baby and toys)
Michel Design Work (soaps and lotions)
Camille Beckman (hand creams)
Colonial Woodwrights
Carmies Dip Mixes
Mama Bear's Kitchen Company
Warm Glow Candle Company
Discover What Speaks to You
Chocolate Soup is a longtime favorite of locals and visitors alike. Come explore six beautifully decorated rooms and three themed outbuildings, all offering a treasure trove of unique gifts and home decor, both old and new. Come shop, be inspired and enjoy! Questions? Give us a call today at 209-966-5683.